Sandstorm community raises $10,644 for Roundcube Next
By Jade Wang - 01 Jul 2015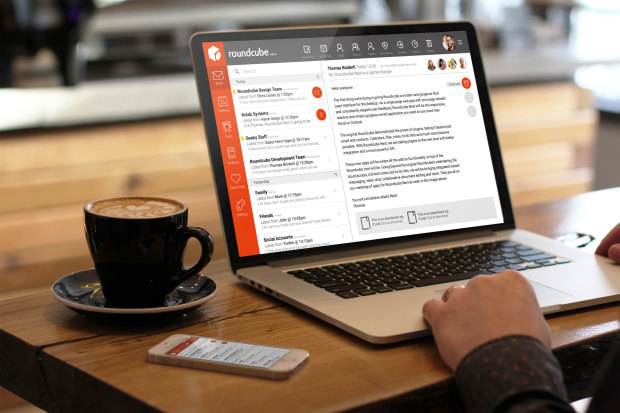 Last week we asked the Sandstorm.io community to come together to support the Indiegogo campaign of Roundcube Next using their Sandstorm app store credit. Today we're happy to announce that we've raised:
$10,644
We've contributed the total to Roundcube Next as a lump sum, making the Sandstorm community the single largest contributor!
Roundcube is an open source email app that you can run on Sandstorm today (demo). They are running a crowdfunding campaign on Indiegogo to modernize their user interface and bring Roundcube to mobile. Although the campaign has reached its funding goal, they've got some great stretch goals and you can still contribute until it ends tomorrow.
Almost a year ago, Sandstorm raised approximately $60K on Indiegogo to fundamentally change the way we use and host web applications. When we raised our $1.3M seed round last January, we made a promise to the community to pay-it-forward – to forward the crowdfunds to support other open source projects (such as Roundcube) in the ecosystem through the App Market. Since the Roundcube Next crowdfunding campaign launched before the App Market launched, we rallied the original Sandstorm contributors to dedicate a portion of their App Market credit to forward to Roundcube Next as a bloc.
Roundcube has promised that they will directly support Sandstorm as a target platform for Roundcube Next, meaning the app will get timely updates and integrate with Sandstorm-specific features. For example, we want to make it easy to attach Sandstorm documents to email for sharing.
Let's take a moment to thank all the Sandstorm contributors who have chosen to forward part or all of their App Market credit to Roundcube:
Erik Swanson, Tommy Hodgins, Mark Bradley, Ondřej Böhm, August Lilleaas, Paul Gaspardo, Oluf Lorenzen, Eddie Jesinsky, Charles Lehner, Francois O Baldassari, Florin Godard, Lachlan Musicman, Patrick Ohly, Praveen Moorthy, Corey Ford, Toby Matejovsky, Giorgos Logiotatidis, Maxime Quandalle, Alexander Kulbartsch, Colin Maudry, Francesco 'makevoid' Canessa, Ben Cordero, Sebastian Kippe, Shawn Becker, shazow, Michael Manley, Pascal Gellert, Dan Bornstein, Wong Ho Wang, Petr Viktorin, Christopher Toledo, Thomas Hansen, Noah O'Donoghue, Matthew Steffen, Baruch Even, Pascal de Vink, Tim Davies, Alex Dempsey, Fred Schättgen, Bruno ARLIGUY, Maria, David Turner, David Meyer, Noel Yap, Hugo Artur Weber Schmitt, Joel Roller, Keith Hall, C. Moreno, Abdullah Khalid, Vincent Malley, James Graves, JollyOrc, Shane Gould, Matt Johnston, Alec, Alan Karp, JT Olds, Daniel Ring, Wes Felter, Sage Ross, Joseph Lee, Asheesh Laroia, Jason Hsu, Yuriy @html5cat Dybskiy, Amir Chaudhry, Pedro Ângelo, nFec, getify, Dan Morrill, Daniel DeSousa, Collin Jackson, Daniel Yokomizo, Aaron Vaneps, Glen Skinner, Tobias Ammann, Dinyar Rabady, Will Norris, Tim Butram, Nathan Henderson, Colin Dean, Jeff Cressman, Vincent Lim, Adam Berkan, Audrey Tang, Justin Fox, Jan Jambor, Fahrstuhl, Greg Perkins, Zellyn Hunter, Tim Lossen, David Alfonso, Michael Bright, Jamiel Almeida, Ali Gunduz, Jonathan Wheaton, Nathan Greene, Mitchell Barry, Matt Campbell, the paul, Svemir Brkic, Paul-Robert Archibald, Tiago Freitas, Eli Willaert, Daniel Schulze Hagen, Tobias, Jeremy Coté, Matthew Baggott, Jason Glass, Thomas Myers, Scott Pritchett, Mike Linksvayer, Fred Eisele, @noahsilas, Fred Smith, Jochen Bartl, Suvi-Tuuli Allan, Mark S. Miller, Rick Richardson, Rebecca Wise, George Ellenburg, Andrew Thibeault, Andrew Jennings, Rahim Nathwani, Aren Olson, Richard Bairwell, Heri Sim, Erik Andersson, Matt Siegel, Phil Dutson, Siegfried Kettlitz, William Zajac, Nick Richards, Kamil Páral, Garance A Drosehn, Guido Hoermann, Robert Konigsberg, Jasvir Nagra <img src=x onerror=alert()>, Joshua Warner, Ana Ulin, Walter Ebert, Brooke Schreier Ganz, Kevin Wallace, Ingo Blechschmidt, Beni Paskin-Cherniavsky, Cole Mickens, Andy Gayton, Scott Nesbitt, Strick Yak, Andrew Chilton, Matthias Dallmeier, Geoffrey Thomas, Matthias Liertzer, Brit Butler, Dan Nuffer, Ry4an Brase, Dawn Luoma, Chhi'mèd Künzang, Duncan J, Vivek Gani, Gaelen Hadlett, TJ Rothwell, Lucas Dohmen, Derek Waters, Igor Cananea, Colin Barrow, Kevin Baker, Richard Thompson, whitequark, Michael Fitzpatrick-Ruth, Jonathan Castello, Michael Powell, Ryan Kelly, J. Ryan Stinnett, William Kilmer, Kenny Rachuonyo, Lionel Debroux, Bastian Allgeier, John M Cooper, Tako Marks, Børge A. Roum, Alex Morega, Bruno Orcha García, mike nonemacher, Andy Burnett, Phil Kates, Lucian Carata, Gregg Cooke, Kevin C., Séamus O'Connor, Tim Kiekhafer, Derrick Southerland, Simon Clausen, queria, Simeon Farwell-Miller, Shyam Paryani, Sascha Zelzer, Jared Sohn, Daniel Dornhardt, Maftoc, Jake Rayson, Brandon Peters, Joshua Wise, Randall Leeds, Kit Stubbs, Ph.D., James Warner, Ben Rog-Wilhelm, Andreas Rohlfs, Konrad Scorciapino, Arne Neumann, Ben Cohen, James Synge, Johannes Krampf, Bryan Luoma, Martin Krafft, Jim Garrison, Kingdon Barrett